Biography
Edit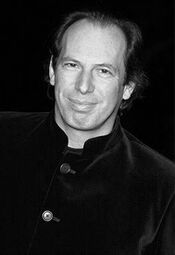 Hans Florian Zimmer was born in Frankfurt, West Germany in September 1957. Zimmer is a very popular composer that has been involved in over one hundred soundtracks for motion pictures. His mentor was composer Stanley Myers. Zimmer's compositions appear in most of the critically acclaimed dramas. His music has earned one Oscar, two Golden Globes, three Grammys, seven Academy award nominations, seven Grammy nominations, seven Golden Globe nominations, and many other awards/nominations. His musical style consist of mixing old and new musical technology. Zimmer is considered the father of integrating electronic music with traditional orchestral music. Zimmer lives in Los Angeles with his wife and four children (3). 
Gladiator Soundtrack
Edit
In 2000, Zimmer collaborated with Lisa Gerrard for the score for Gladiator. The score received an Oscar nomination, in addition to Golden Globe and Broadcast Film Critics Awards for the epic score. The soundtrack sold more than three million copies worldwide. The score included seventeen tracks. The most popular song from the score was Now We Are Free, with vocals by Lisa Gerrard. With the worldwide success of the soundtrack, a second album Gladiator: More Music From The Motion Picture, was released (3). 
Composition Style
Edit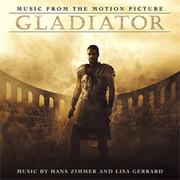 Zimmer's Gladiator score features ethereal atmospherics, the battle waltzes, the suspenseful conversational cues, and the Moroccan (and other ethnic) textures. In "Honor Him," a choral and light orchestral presence is added to Zimmer's "Earth" theme before moving directly into the famed ascension cue, "Now We Are Free," that closes the film. The electronically and percussion filled track features vocals by Lisa Gerrard. The song features a variety of vocal range by Gerrard, along with lyrics that are questionable. One of the greatest misconceptions about "Now We Are Free" is that the lyrics are formed from Hebrew or Latin or some other ancient language when, in fact, they are simply fictional words (2).
Comparison to Sword and Sandal Composers
Edit
When it came to composing the score for Gladiator, critics believed Zimmer fell short in providing a realistic Roman score. Zimmer argues that nobody really knows what Roman music sounds like. To his advantage, he uses that argument as an excuse for his lack of effort in scholarly research. Several times in his career, Zimmer has decided not to examine previous film composers' works to evaluate how and why they worked so well for the individual film. Editorial Review praises Rózsa for his extensive research for Ben-Hur and Quo Vadis. The article insists that's the reason Rózsa is commonly considered the best of the Golden Age composers (2).
Zimmer is a completely self-taught composer. He learned everything he knows through collaboration and experimenting. He pushes collaboration between composers because that is how he learned. Frequently he would work with other composers by having them conduct, write additional music, and co-compose with him (4). Composer Harry Gregson-Williams frequently collaborated with Zimmer which lead to the launch of his successful career in Hollywood. His friendship with Zimmer resulted in Gregson-Williams providing music for such films as The Rock, Armageddon and The Prince of Egypt. Gregson-Williams went on to produce scores for Kingdom of Heaven and The Prince of Persia, to name a few sword and sandal genre films (4).
The 2014 film, Pompeii, was heavily influenced by Gladiator. The theme of the film categorized as a sword and sandal epic of a slave fighting for his freedom. It comes as no surprise that the co-composer of Pompeii's score, had previously worked on sword and sandal genres before. Joseph LoDuca had previously worked on Hercules: The Legendary Journeys (1995) and Spartacus: War of the Damned (2010). However, the credit composer, Clinton Shorter, hasn't worked in this genre before. Pompeii's music is rooted in the modern epic swords-and-sandals sound that emerged from scores like Gladiator, and continued through Troy, the 300 series, and others like it: big orchestra, big choir. Pompeii is loud, exciting, has a prominent main theme, and will fulfill the requirements for comtemporary historical epics (1).
Contribution to Sword and Sandal Films
Edit
Hans Zimmer's compositions have participated in different genres of film. In respect to the Sword and Sandals Genre, Zimmer has participated in a handful of films. 
The Prince of Egypt (1998)
Gladiator (2000)
The Road to El Dorado (2000)
AD: The Bible Continues (TV Series: 2015)
The contribution of consistent music composers for the Sword and Sandal genre are little to none. There has been a different composer for each film in the genre. Zimmer is, however, consistent with participating in films that include battle or war of some kind. The films that participate in this genre are Tears of the Sun (2003), The Last Samurai (2003), Pirates of the Caribbean films (2003-2011), Pearl Harbor (2001), Dunkirk (2017), and Black Hawk Down (2001) (3). 
References
Edit
Ad blocker interference detected!
Wikia is a free-to-use site that makes money from advertising. We have a modified experience for viewers using ad blockers

Wikia is not accessible if you've made further modifications. Remove the custom ad blocker rule(s) and the page will load as expected.