By RJ Gonzales
Kirk Douglas (born Issur Danielovitch, December 9, 1916 - Present) is an American actor, producer, director and author most noted for playing the titular role in Spartacus (1960)—a sword-and-sandal film based on Howard Fast's novel of the same name and directed by Stanley Kubrick. Among a plethora of acting credits over the years, Douglas was also one of the first actors to establish an independent production company and played a critical role in leading to the destruction of the ruthless era of "The Hollywood Blacklist." [1]
Early Life & Career
Edit
Kirk Douglas was born Issur Danielovitch in Amsterdam, New York on December 9th, 1916. His parents, Byrna "Bertha" and Herschel "Harry" Danielovitch, were immigrants from the Russian Empire. Upon their arrival to the United States, both of his parents changed their names to "Bertha" and "Harry" and adopted the same surname ("Demsky") that his father's brother had used when he arrived to the US some time before them. [2] For the majority of his early years, Douglas used the name Izzy Demsky. The only son of seven children, Douglas grew up in a relatively poor household and his family spoke primarily Yiddish at home.
Douglas always wanted to be an actor and was convinced to attend college by a friend who had returned from his freshman year. The two hitchhiked to campus and he was admitted to St. Lawrence University on a loan he paid off by taking odd jobs. One of these jobs was at a summer stock playhouse where he met fellow actor and life long friend Karl Malden, who convinced him to legally change his name to Kirk Douglas after graduation. Douglas later won a scholarship to attend the American Academy of Dramatic Arts where he met and befriended Lauren Bacall who would later offer a bridge into Hollywood. Shortly after, Douglas enlisted in the United States Navy during World War II. [3]
After the war, Douglas returned to New York and acted in a few radio and theater productions. During this time he married his first wife, Diana Dill, and had two sons, Michael and Joel. (The couple later divorced in 1951) Bacall, now in Hollywood and on the cusp of stardom, recommended that a director check out one of Douglas's shows on his trip to New York in search of new talent. That director was Hal Wallis, who was impressed by his performance and signed him on to make his screen debut in the film, The Strange Love of Martha Ivers (1946), opposite Barbara Stanwyck. [3]
Douglas went on to remarry and have two other sons and star in a variety of films while establishing himself as one of the greatest figures of Hollywood's "Golden Age" of cinema. He received critical success and wide recognition and was nominated for an Academy Award several times for his films, Champion (1949), The Bad and the Beautiful (1952), and Lust for Life (1956) before later winning an Honorary Oscar in 1996 for the efforts of his entire career and his "creative and moral force in the motion picture community." [4]
Douglas was also among the first actors to start his own production company and have total creative control over films as an independent producer, and was also a critical force in the deconstruction of the Hollywood Blacklist.
Byrna Productions
Edit
After the Paramount Antitrust Case of 1947 [5] created a breakup of the studio system, many of the major studios lost their exclusive power that kept film production a "vertically integrated oligopoly." Furthermore a new set of tax laws that made it easier for Hollywood artists to incorporate themselves in order to reduce the tax enforced on their individual incomes, and the emerging push from the rise in Television markets, shook up the film industry as a whole even further. [6] In the 1950s, many figures in Hollywood sought out to create their own production companies to reap these new benefits.
Kirk Douglas was one of these figures and established Byrna Productions in 1955, which he named after his mother's Russian name. [7] Douglas immediately began producing films under his production company, releasing six films only two years after its inception. The production company was actively producing films until 1986. The most notable and widely recognized film produced by the company is Spartacus (1960) in which Douglas also starred in and exercised his new creative control with the direct goal of commenting on the injustice brought forth from The Hollywood Blacklist and the notion of McCarthyism.
The production company is no longer active, however it spawned subsidiary, Joel Productions, which went on to produce six more titles on behalf of Byrna Productions.
Prior to starring in the lead role of Spartacus (1960) that would strengthen his already high-status in Hollywood, Kirk Douglas had prior experience and presence in the Sword and Sandal genre. He starred in Ulysses (1954) an adventure/fantasy film based on the poem, Odyssey by Homer. The film was a joint production between French (Zenith Films) Italian (Lux Films & Produzione Ponti-De Laurentiis) and U.S. (Paramount) owned production companies.[8]
Ulysses follows the titular Greek hero's efforts to return home after the Trojan war comes to an end, and the vicious creatures and misfortunes he encounters on his adventure back to Ithaca and his faithful wife. Douglas assumes the lead role of Ulysses, while Anthony Quinn and Silvana Mangano fill out other key roles.
After the first director quit at the last minute, the position was offered to Mario Camerini who also served as a co-writer of the screenplay alongside Franco Brusati and a team of other writers. [8] Filming took place at Ponti-De-Laurentiis Studios in Rome, Italy between May 18th 1953 and September of the same year, with additional scenes being shot in a fishing village in Tuscany, as well as parts of the Mediterranean Sea and North Africa. [9][10] It was first released in Italy on October 6, 1954 and in the USA a year later on August 17, 1955.
The film cost roughly ~$500,000 ($4.4 Million today) to make and has grossed $2,200,000 ($19.5 Million today) to date.
Spartacus & The Hollywood Blacklist
Edit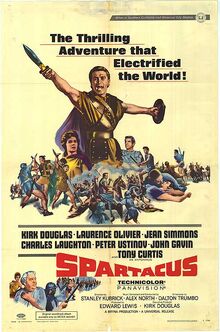 After reading Howard Fast's novel about Spartacus—the ancient and infamous Thracian slave who inspired his fellow captives and ignited the third slave rebellion and the last of the Servile wars against the Roman Republic—in 1957, Douglas became fascinated with the story. Despite the historical verity of Spartacus and his cadre of fellow slaves' failed efforts, Douglas was inspired by Spartacus's determination and wanted to create a film that would express the eternal human fight for freedom against oppression. [11] This, he felt, was parallel to the political and social issues faced at the time.
After Douglas was turned down in favor of Charlton Heston for a role in the massively successful Ben Hur (1959) his drive to create this film was only strengthened and he found financial support through Universal Pictures and started production on Spartacus, which was to be released on the heels of Ben Hur the following year. This was met with some skepticism of drawing in audiences by adapting a blacklisted author's work for the big screen and stirred up some controversy within the entertainment community.
Spartacus
was the first film where Kirk Douglas could exercise full creative control without the interference of the studio. He exercised these new rights immediately by firing the first director of the film and hiring a relatively green director at the time, Stanley Kubrick, whom he had worked with before and would later go on to be one of the most celebrated and renowned directors in the history of cinema. However, at the time, Kubrick's unseasoned direction was more receptive of Douglas's frequent notes and was persuaded by his overall vision for the film; a luxury Douglas would not have had with the previous, more established, director.
[11]
He also hired Dalton Trumbo to write the screenplay in secret and without the knowledge of the studio who wouldn't know until after Douglas revealed the screenwriter's identity after the film was released.
[12]
This was a daring move on Douglas's part for the time given that both Howard Fast and Dalton Trumbo were both on The Hollywood Blacklist—members of the entertainment industry who were imprisoned and blacklisted from employment upon their release after being accused of having communist ties or sympathies during the McCarthy hearings. This list lasted until around the 1960s and Trumbo, unable to find work despite the decline in the interest of the list, was brought onto the project and only ever credited as the rightful screenwriter after the end of the blacklist.
Trumbo's own perils can be seen in Spartacus and his army in the infamous scene near the end of the film in which Spartacus's comrades rise and claim, "I am Spartacus!" and refuse to turn him over to the Roman generals and choose death over betrayal. A scene that alludes to Trumbo's own unwillingness to "name names" during the McCarthy hearings and the imprisonment and shunning that followed.
Douglas gave these blacklisted writers, especially Trumbo, a credible voice again. In December 1960 Spartacus was credited as one of the two films (the other being Exodus (1960) also written by Trumbo) that put the nail on the coffin and helped to end the Hollywood Blacklist by showing that the two films that were openly associated with blacklisted writers were also the top two films at the box office in the same month. [12]
Howard Fast, the author of the novel, was not fond of Kirk Douglas' performance or the film as a whole. [13] He felt Douglas' range to be limited and didn't quite provide ample authenticity to the character of Spartacus because of his stoic and apathetic facial expressions in the film. In an audio commentary over Spartacus, Fast is quoted as saying, "An endless, rigid expression on Kirk's face begins in time to drive me crazy. I feel such a need for him to relax the muscles of his face. Spartacus was, if anything, a man of great intelligence. He should be afraid, he should be intrigued, he should be wondering, he should be reacting!"[14] [13]In the same commentary, Fast also reveals he disagreed with the casting of Jean Simmons saying, "Jean Simmons is oh-so improbable in the role that it never works." [15]
Decades after its release, Spartacus is still regarded as, "one of the greatest and [most] courageous films of all time!" [16]
Influence on Sword and Sandal Films & Pop Culture
Edit
Although Kirk Douglas starred in only two Sword and Sandal films, his presence in the genre has been among the strongest felt. Both Ulysses and Spartacus have been successful at solidifying their place in the genre with the latter being regarded as a "sweeping epic that defined a genre and ushered in a new Hollywood era." as well as a film that "remains a landmark of cinematic artistry and history." [17]
Ulysses (1954) was one of the first major peplum films to be released in the 1950's and ushered in the age of Italian peplum films that would consume much of the 1960s and early 1970s. These films often recreated the tales of Homer or Hercules and often created their own versions of the creatures like the Cyclops in the film, which was not unique or exclusive to Ulysses, but a marginal part of its success for its use of various cinematic techniques and special effects implemented by Eugen Schüfftan, the creator of "The Schüfftan Process."
Spartacus (1960), is the more famous of the two and references to elements of this film have been frequently mentioned or spoofed in pop culture or later films in the sword and sandal genre.
"I am Spartacus!" Edit
Variations or direct spoofs of this famous line from the film have appeared in other sword and sandal films such as Life of Brian (1979) in which Brian's name is replaced with Spartacus.
In other Pop Culture, Family Guy has also spoofed this in a cutaway featured in the show's tenth episode of its tenth season, "Quagmire and Meg" in which many men stand and defiantly proclaim, "I am Spartacus! No, I am Spartacus!" but Peter Griffin, says, "That guy's Spartacus," and points out the real Spartacus to the Roman authorities.
Gladiator Life Edit
The film featured a unique representation of life for a Gladiator that previous sword and sandal films had not effectively elaborated on. More so, the film also introduced the concept of a fellow exotic gladiator who refuses to kill another gladiator in the arena as seen with Draba and Spartacus where Draba instead attempts to kill the Roman authority who preside over the games.
Variants of this element have been seen in the sword and sandal genre in later films such as:
History of the World, Part 1 (1981) Comicus and Josephus are outfitted with similar weapons used by Spartacus and Draba (complete with net and trident) and choose to fight their way out of the palace instead of killing each other.
Gladiator (2000): Maximus's friendship with Juba is somewhat similar.
Pompeii (2013): Milo and Atticus share a similar friendship and join together in the arena.
Spartacus has since been remade as a TV Movie of the same name which premiered on April 18th 2004 on the USA network. The film is narrated from the point of view of Spartacus's wife Varinia to her son as she recounts the valiant life of his father. The film diverges on its content but it keeps the similar style of costumes and weaponry fitted to Spartacus and Draba in the arena featured in the former film.
It has also been turned into a franchise of critically acclaimed television miniseries on the Starz network that ran from January 22nd 2010 and lasted until April 22, 2013. Welsh actor, Andy Whitfeld starred in the titular role for the first series but was replaced with Australian actor, Liam McIntyre for the rest of the franchise after he dropped out due to his battle with Non-Hodgkins lymphoma and subsequent death in 2011.[18] There were four total series in the franchise.
Spartacus: Blood and Sand (January 22 - April 16, 2010; 13 episodes)
Spartacus: Gods of the Arena (January 21 - February 25, 2011; 6 episodes)
Spartacus: Vengeance (January 27 - March 30, 2012; 10 episodes)
Spartacus: War of the Damned (January 25 - April 12, 2013; 10 episodes)
Notable Films
Edit
Among Kirk Douglas expansive repertoire of films he has produced or starred in, those he is most regarded for are:
| Film | Year | Role |
| --- | --- | --- |
| The Strange Love of Martha Ivers | 1946 | Actor |
| Champion | 1949 | Actor |
| Young Man with a Horn | 1950 | Actor |
| The Glass Menagerie | 1950 | Actor |
| Ace in the Hole | 1951 | Actor |
| Detective Story | 1951 | Actor |
| The Bad and the Beautiful | 1952 | Actor |
| Ulysses | 1954 | Actor |
| 20,000 Leagues Under the Sea | 1954 | Actor |
| Lust for Life | 1956 | Actor |
| Paths of Glory | 1957 | Actor & Producer |
| The Vikings | 1958 | Actor & Producer |
| Last Train From Gun Hill | 1959 | Actor & Producer |
| The Devil's Disciple | 1959 | Actor & Producer |
| Spartacus | 1960 | Actor & Producer |
| Strangers When We Meet | 1960 | Actor & Producer |
| The Last Sunset | 1961 | Actor & Producer |
| Lonely Are the Brave | 1962 | Actor & Producer |
| The List of Adrian Messenger | 1963 | Actor & Producer |
| Seven Days in May | 1964 | Actor & Producer |
| Seconds | 1966 | Producer |
| Cast a Giant Shadow | 1966 | Actor & Producer |
| Summertree | 1971 | Producer |
| The Final Countdown | 1980 | Actor & Producer |
| Something Wicked This Way Comes | 1983 | Producer |
| Tough Guys | 1986 | Actor & Producer |
Kirk Douglas established The Douglas Foundation with his second wife, Anne in 1964. It is one of the entertainment industry's largest and oldest philanthropic institutions that seeks out to provide assistance to those who might otherwise not be able to help themselves. [19]
Aside from the foundation, Kirk Douglas has continued his philanthropic efforts in many mediums and for a variety of causes and has remained one of Hollywood's most caring and generous celebrities.
Kirk Douglas's sons followed in their father's footsteps and went on to become successful actors and producers themselves and continue Kirk's humanitarian and political activist efforts.
On December 9th, 2016, Douglas turned 100 years old and celebrated his milestone birthday at the Beverly Hills Hotel alongside his famous family and friends who all sat around tables that were themed to Douglas's favorite films he had starred in over the years. [20]
References
Edit